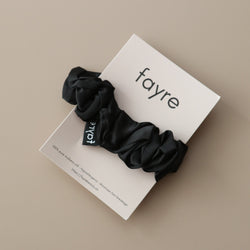 Fayre Silk Scrunchie (Freebie for Melody's IG Live)
Silk accessories are the best for your hair. They are gentle, doesn't tug on your hair and hair fall is minimized.
Tie your hair with our Fayre Silk Scrunchie instead of a regular rubber band. There are plenty of ways to style your hair with this big scrunchie - in a ponytail, a high bun, or even on your wrist as an arm candy!

The photo is for illustration only. We will pick the accessories at random.
Repeated purchase
Hair tie that doesn't tug on hair