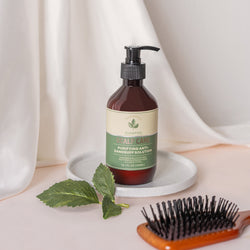 Fayre Scalp Care Shampoo
Specifically formulated for people with weak hair roots and scalp, Fayre Anti-Dandruff Scalp Shampoo gently cleanses, nourishes and purifies the hair without causing excessive dryness and leaves it soft and shiny One of the best dandruff and scalp care shampoos that helps you soothe your scalp and provides relief from irritation
With all natural ingredients that are gentle to the skin, our scalp care shampoo is designed to make your scalp healthy without causing irritation. Say goodbye to your scalp problems and boost your confidence with our product today.
Fayre Scalp Care Shampoo (300ml for S$34, 500ml for S$45, 1000ml for S$85) 

A targeted anti-dandruff shampoo for dandruff-prone, oily and dry hair

Deep scalp cleansing to target the root cause to prevent the production of further flakes

Paraben-free
Benefits:
What sets our product apart from the rest and makes our scalp care shampoo the best? It is the totality of our ingredients, formulation and quality check. We work hard to provide you with only the best products for better hair and scalp. Here are some of the perks you will enjoy when your choose our scalp care shampoo:
Eliminates impurities from the scalp

Due to the sebum production on our scalp, it attracts and traps dirt, germs and other impurities on a daily basis. Thus, we designed our scalp care shampoo to eliminate impurities from the scalp. Every wash will leave your scalp clean while maintaining a healthy pH balance.
Removes visible flakes with daily use (best to be used for at least 3 months)

As an anti-dandruff scalp care shampoo, our product will effectively remove visible flakes after 3 months. It moisturises the scalp to prevent drying.
Protects your scalp from irritation and inflammation,

 

leaving hair clean and fresh


Due to our mild and all natural ingredients, you can guarantee less to zero inflammation or irritation from using our products. Have a healthier scalp with our scalp care shampoo.
Suitable for:

Both men and women 
Dandruff-prone hair
Pe

ople with very oily scalp

Pregnant women
Recommended usage:
Ingredients:

Water, Disodium Laurylamphoacetate, Cocamidopropyl Betaine, Sodium Lauryl Glutamate, Glycerol, Polyquaternium-7, Polydimethylsiloxane, Coconut Diethanol Amide, Guar Hydroxypropyltrimonium Chloride, Phenoxyethanol, Parfum, Citric Acid, Argania Spinosa Kernel Oil
Scalp Care Shampoo
First time trying and wow it's mind blowing! So sooo glad I finally found a shampoo that suits my pretty oily scalp 😌
Can't wait to try
I have tried their hair-fall and hair growth shampoo!
Now I can't wait to try the Scalp Care Shampoo! :)
Good as usual
no doubts on the shampoo quality.
however some feedbacks on the travel pack that i purchased,
the pump lock was not working as good thus spilled some in the bag with
the high pressure in plane.
Seen improvement in my scalp
Have been using it for a week now. My scalp is definitely less itchy and I am seeing improvement in my dandruff. I really like the scent of the shampoo. I bought the 300ml to try and will get the bigger bottle and the conditioner if my scalp condition continues to improve. So far I'm pleased with my progress.
Great shampoo :)
Scent is great and shampoo works well for my hair. Would recommend!
Love Fayre hair products!
I've been using Fayre hair products since 2021. Before that, I used to have very messy and untamed hair and now it's very volumious and soft after using the hair fall and scalp range! The silk hair accessories and hair curler are amazing too!
Will continue my support for fayre products!
Great shampoo
Love this shampoo! My scalp doesn't feel dry or tight after using it. No turning back after trying this shampoo!
Scalp care shampoo
Gentle shampoo that cleanse my scalp well and my scalp doesn't itch after that. Thank you !
Scalp care shampoo
Tried my first bottle in Sep 2022 and never looked back.
I was 16m postpartum then and continued to suffer from hair loss until I started using Scalp Care shampoo.
Hair loss is reduced significantly and I'm a loyal customer now.
Fayre Shampoo
This is my 3rd purchase, loved their product. Even my parents are using them
Now ♥️👍🏻