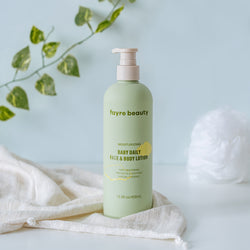 Fayre Baby Daily Face & Body Lotion
Fayre Baby Baby Face & Body Lotion (400ml)

This is a highly-moisturizing face & body lotion which instantly moisturizes your little one's skin, leaving it super soft & smooth.
Formulated in Australia, the main ingredient of this product is licorice, which helps to soothe the skin, ease inflammation & reduce redness. Licorice also helps with hyperpigmentation, and with daily application, evens out skin spots.

It protects skin from damage even after unprotected exposure to UV rays, and it is suitable for sensitive skin, including eczema-prone skin. Anyone can use it, and it is safe for newborns too! 

After showering with Fayre Baby Gentle 2-in-1 Shampoo & Body Wash, apply a generous layer of Daily Baby Face & Body Lotion all over and massage the product in gently. To be used daily, this gentle formula keeps your little one's skin moisturized for many hours. Reapply as & when needed. 
Moisturizing and easy to apply
The body and face lotion have a pleasant scent and it is easy to apply. Skin feels non-sticky and very moisturizing. Would recommend to use on mummies as you are also handling your babies.
Gentle
Gentle on skin , non sticky absorbs well
Will buy again..
Love how the lotion is not sticky after applying.
Best lotion
As a mom, I am very particular about baby body lotion. This lotion is fast absorbent, and immediately soften and smoothen my daughter's skin! The best part, it is not sticky even when my child is sweating from all the running ard! ♥️
Nice Product
Bought it for own use instead of a little one since it's suitable for adult too. It's non greasy & it absorbs really well. Used it on face & body. A really nice product for daily use!