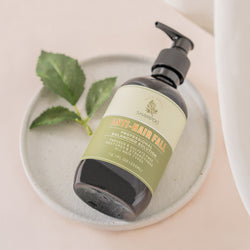 Fayre Anti-hairfall Shampoo
One of the most popular and best anti-hair loss shampoos in Singapore, Fayre Anti-hairfall Shampoo is infused with Moroccan Argan Oil and rich in Vitamin E. As one of the best anti-hairfall shampoo, it gently cleanses, nourishes and purifies the hair without causing excessive dryness that may lead to having dandruff. The ingredients used are organic, safe and clinically-tested, specifically formulated for people with weak hair roots and scalp.
The best anti-hairfall shampoo for those who wish to avoid side effects, Fayre Anti-Hairfall Shampoo is the way to go! Grab a bottle of our best anti-hairloss shampoo for a natural way to strengthen your hair as it grows.
Fayre Anti-hairfall Shampoo (300ml for S$35, 500ml for S$46, 1000ml for S$86)
The best anti-hairfall shampoo that gently cleanses, nourishes and purifies the hair  
Infused with Moroccan Argan Oil and rich in Vitamin E
Paraben-free and no artificial chemical added
Benefits:
Want to know how our best anti-hairloss shampoo can actually make your hair stronger and prevent hair fall? Here are some of the proven benefits of our best anti-hairfall shampoo:
Balances PH levels

The pH level of the scalp must remain at 5.5 just as the rest of the skin. This is to maintain healthy layers and follicles where the hair strands will grow. Meanwhile the hair strands must have a pH balance of 3.67, slightly more acidic than the scalp as it helps strengthen the cuticles. Our best anti-hairfall shampoo can balance your hair and scalp's pH level accordingly.
Strengthens hair follicles and minimizes hair fall during shower

Strong chemicals from other shampoos will weaken your hair follicles that can result in a clump of hair strands on the shower drain strainer. Our best anti-hairloss shampoo has milder and all natural ingredients to reduce the chances of hair fall while showering.
Nourishes hair and leaves it soft and shiny

The main ingredients of our best anti-hairfall shampoo are known to nourish hair strands and the scalp. Thus, with continuous use, you can see improvements in your hair's smoothness and vibrance.
Suitable for:
Both men and women 
Chemically-treated hair
Pregnant women 
Post-partum hair loss
Recommended usage:
Use 2x daily (day and night) 
Best used with Fayre Anti-hairfall Conditioner for optimal effect
Ingredients:

Water, Disodium Laurylamphoacetate, Cocamidopropyl Betaine, Sodium Lauryl Glutamate, Glycerol, Polyquaternium-7, Polydimethylsiloxane, Coconut Diethanol Amide, Guar Hydroxypropyltrimonium Chloride, Phenoxyethanol, Parfum, Citric Acid, Argania Spinosa Kernel Oil
Fayre Anti-hairfall Shampoo
excellent product! i have been using this shampoo for about a year now.
hairfall has considerably reduced, my hair is smooth and silky after every use.
my husband has also been using this product and he loves it!
recommended!
Anti Hair Fall & Scalp Shampoo
I have been using for years and this is my 5th bottles now. The shampoo and conditioner smell good, it make my hair softer and smoother but I realised it can be a little greasy and I didn't see much result on the hair fall though. Still continue to use it as the shampoos have no harmful ingredients and hopefully it will improve on my hair fall issue.
Anti hair fall shampoo
Bought this for my mom and it has been working well for her - really does what it says!
Anti-hair fall shampoo
Cleanses my scalp well, and really did notice hair fall getting lesser during bath. Thank you :)
Love it!
I bought the set with shampoo and conditioner, used it and feels like my hair condition were better! No more itch, oily scalp and I can feel less hair fall too! Running out so bought my 2nd bottle now!
Hair becomes smoother
Have tried this product mainly to help with hair loss but I'm surprised that it has helped my hair to become less dry and smoother. A good product to try!
Fayre Anti-hairfall Shampoo
Very mild shampoo that is great for daily washing and help to reduce hair fall!
3rd purchase!
Fayre Anti-hairfall Shampoo
Favourite shampoo
Repeated purchase. Not only it smells nice, my hair fall has significantly reduced!
Hair Growth Shampoo
I loved the scent of the shampoo, makes me feel so relaxing. Previously, I bought the scalp shampoo during pregnancy to try out before I gave birth, it does not makes my hair oily and I'm so happy. Thankfully, I'm so glad to use this shampoo in the morning before I went to hospital for delivery in the evening. I did not feel my scalp or hair oily or itchy for the next few weeks during my confinement. Thank you so much Melody for bringing in this awesome hair product.