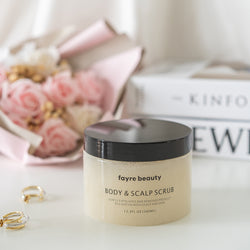 Fayre Scalp & Body Scrub
Fayre Scalp & Body Scrub is the ultimate pampering for your hair and body. Awaken your senses with this floral-scented scrub and indulge in an invigorating cleansing session with Fayre Scalp & Body Scrub. 
Fayre Scalp & Body Scrub (380ml)

A luxurious scrub for both scalp and body
Features a blend of sugar and essential oils to thoroughly cleanse your hair & body
Essential oils used: tuberose, jasmine, honeysuckle, vanilla 
Benefits:
Sugar crystals help to gently exfoliate the scalp and body while increasing microcirculation
Promotes blood circulation on both scalp and body
Leaves your scalp feeling clean and refreshed
Removes dead skin cells on your body to reveal smoother, brighter skin

Promotes better product absorption after exfoliation
Suitable for:
Both men and women
Itchy/ oily scalp
Pregnancy and breastfeeding safe

Recommended usage:
Use 2x weekly / If you have oily scalp, you can use it on your scalp 3x a week
Section wet hair to reveal scalp and massage in circular motions to gently exfoliate, then rinse off with lukewarm water.
Apply to damp skin and massage in circular motions to gently exfoliate, then rinse off with lukewarm water
Best used before Fayre Shampoo & Conditioner and Shower Gel
First time buying
Tried the hair and body scrub. Interesting and pleasant texture. Scrub is not harsh and does it job
Fayre Scalp & Body Scrub
Surprised by how nice smelling it is. I love it. Will buy again!!
Heavenly smell!
I have been eyeing this scrub since it was launched and it definitely did not disappoint. It melts when you add a little water and it is so easy to lather. And the smell... omg. It is so heavenly! Fantastic buy!
Squeaky Clean! Love it
Didn't expect the results to be so good. I totally love the smell and how it makes my scalp feels so squeaky clean! :D
lux scrab
love the Jasmine smell and has a lux feel esp when it touches the skin, so cooling and gentle that it melts into the skin.
nice body scrup
the smell is good and it is not rough on the skin!
Fayre Scalp & Body Scrub
The floral scent is really invigorating and I like how a little amount goes a long way! Can lather quite abit. Made a mistake the first time when I scooped out several times and ended up with so much suds lol. I won't mind to purchase it again!
Scalp Scrub
Another lovely product, looking forward to use it every week lol. Scalp feels fresh and hair isn't limpy the next day.
Although there is bubble forming as I massage onto my scalp, but scalp doesn't feels dry out after using shampoo. Rather, scalp feels clean!
The only thing is the jasmine smell (I know this is subjective) which lingers on the hair , might be good to have other scent instead.
convenient scrub
its really convenient to have this 2in1, it works well. but i am not big fan of the smell, it has a strong jasmine flowery smell but after u r done , its ok.
Smells heavenly!
Ever since using Fayrebeauty hair products, I nv want to use any other hair brands. It really works for my hair. Thus, when I saw this unique hair n body scrub, I so want to try this and furthermore, a good chance to try with sales! The smell is heavenly and really feels clean on my scalp and can lather well. It is not too harsh on my sensitive eczema prone skin too and leaving my skin smelling so good. It adds on to a relaxing aromatherapy experience too after a busy work day.