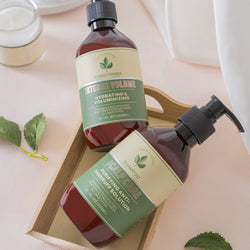 Fayre Scalp Care Volumizing Shampoo & Conditioner Duo
Fayre Scalp Care Volumizing Shampoo & Conditioner Duo
Specifically formulated for people with weak hair roots and scalp, Fayre Anti-Dandruff Scalp Shampoo and Conditioner gently cleanse, nourish and purify the hair without causing excessive dryness and leaves it soft and shiny. One of the best dandruff shampoos that helps you soothe your scalp and provides relief from irritation. Say goodbye to your scalp problems and boost your confidence with our product today.
Fayre Scalp Care Shampoo
A targeted anti-dandruff shampoo for dandruff-prone, oily and dry hair

Deep scalp cleansing to target the root cause to prevent the production of further flakes

Paraben-free

Benefits:
Eliminates impurities from the scalp

Removes visible flakes with daily use (best to be used for at least 3 months)

Protects your scalp from irritation and inflammation, leaving hair clean and fresh
---
Fayre Intense Volume Conditioner

Indulge your senses with this smooth conditioner that will bring your hair back to its healthiest form

Extremely buttery to hydrate your hair, while giving it volume and reviving its bounce

Paraben-free
Benefits:
Hydrates and softens your hair

Volume-boosting
---
300ml Bundle Inclusion at S$61 (U.P. S$68)

1 Fayre Scalp Care Shampoo (300ml)

1 Fayre Intense Volume Conditioner (300ml)

500ml Bundle Inclusion at S$81 (U.P. S$90)
1 Fayre Scalp Care Shampoo (500ml)

1 Fayre Intense Volume Conditioner (500ml)
1000ml Bundle Inclusion at S$153 (U.P. S$170)
1 Fayre Scalp Care Shampoo (1000ml)

1 Fayre Intense Volume Conditioner (1000ml)
Repeat order~ Really love their product!
It really nice to use, oil controlled and it smells good~ All my haircare product has changed to Fayre! It has been more than a year now and still using their products.
Hair fall shampoo
the shampoo really does what it says - although this is not a anti hairfall shampoo, hair loss seems to have decreased too. the conditioner makes my hair less oily and voluminous.
Best conditioner I've used so far
Fast delivery and I'm really happy with the conditioner! I'm someone who always use drugstore brand conditioner but this makes my hair extremely smooth and smells great! Just gonna stick to this from here on:)
Fayre Scalp Care Volumizing Shampoo & Conditioner Duo
After using both the shampoo and conditioner, my scalp feels better and hair became smoother. Likes the fragrant of the shampoo and conditioner too.
good
enjoyed it loved the smell
Love the smell
First time tried the scalp care shampoo and conditioner. It smells really good and relaxing. My hair feels smooth and soft. Quality of the dispensing bottles still need improvement. Not really easy to pump the shampoo out.
First purchase and will come back for more!
I have been using the shampoo & conditioner for 2 weeks and I have seen great improvement with my scalp and hair. There's no more bumps on my scalp and my hair don't looks oily during the day. Lastly, I love love love the smell of this duo. Will recommend my family and friends!
Love the smell
I love the smell of the shampoo and it does help with my scalp for the time being. Will continue to use for better result.
Scalp Shampoo
First time bought the 1litre bottle as is very effective for the scalp and my hair feels light & less itch