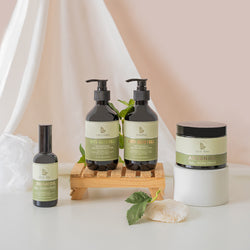 Fayre Anti-hairfall Hair Care Set
Formulated in Australia, Fayre Beauty's bestselling Anti-hairfall Hair Care Set is a 4-step hair care routine for effective hair loss treatment.  

One of the most popular anti-hairfall shampoos in Singapore, Fayre Anti-hairfall Shampoo is infused with Moroccan Argan Oil and rich in Vitamin E. It is professionally-formulated to cleanse, nourish and purify the hair without stripping the hair of its natural moisture level.
Fayre Anti-hairfall Conditioner is infused with Moroccan Argan Oil, keratin, fatty acids and protein. Indulge your senses with this smooth hair conditioner that will bring your hair back to its healthiest form by smoothing and moisturizing your hair.
Fayre Deep Conditioning Hair Oil is a luxurious hair oil that is suitable for daily use. Prized for its gel-like texture, it is lightweight and fast-absorbing, and boasts an elegant floral scent. It also promotes frizz-free hair, smoothens frizz and prevents split ends. Unlike conventional hair oil in the market, Fayre Deep Conditioning Hair Oil does not leave an icky and oily feeling after application. 
You do not have to step out of the house to pamper your tresses. Enjoy a simple hair spa at home with Fayre Deep Conditioning Treatment Mask which hydrates, rejuvenates and revitalizes hair. It revives the natural strength of your hair to reveal lustrous, shiny hair.
Fayre Hair Care Set Starter Bundle inclusion S$110 (U.P. S$138):
Fayre Hair Care Set Deluxe Bundle inclusion S$135 (U.P. S$159):
 Fayre Hair Care Set Jumbo Bundle inclusion S$200 (U.P. S$240):
Smells very nice
First time trying and smells very nice! Thank you!!
Best shampoo duo
I like the smell and how it helps to control my hair fall, repeat purchase
Good set
First time trying the hair care set! Hair mask and hair oil I've been using for awhile and it's great. Shampoo and conditioner is very good, hair feels smooth after use!
Repeat purchase!!
this is my second purchase after 2 months of trying out the anti hairfall set. result can be seen after 1 week of usage! can visibly see my hairfall lessen by more than half!! thus stocking up during the 1111 sale!! such a happy buy!
Fayre Anti-hairfall Hair Care Set
Hi Melody! Just want to share my honest review on the Anti-hairfall hair care set. I bought the products for my daughter before her confinement few months back and she is in love with the hair products! She did not experience post partum hair loss and she actually has a lot of baby hair growing. Thank you for the great products and will continue to support you☺️
Good set
Ordered on 7/11 and received on 9/11. Really kudos to the team for being such efficient sellers.
First time trying the shampoo series, I've been using the hair oil and hair mask for a period of time and onto my 2nd bottle already. I swear Fayre's hair oil is even better than those big brands like shiseido or keratse. I cannot seem to find a "dupe" that's as close quality to Fayre's. Will continue purchasing and hope the shampoo and conditioner series will help tame my hair! :)
Anti hairfall
I super like this series and it helps me to really reduce hair fall after my pregnancy.
Effective
Bought this as a gift for a friend because she deserves the best :)
Anti Hairfall
The shampoo is easy to lather and scalp feels clean after washing, hopefully it helps to reduce hairfall in long term.
Anti-hairfall hair care
8 is a good number, and I have just received my 8th order on Fayre Anti-hairfall shampoo & conditioner duo. The product works tremendously well for me and ever since I started using this range, I have no more worries of hairfall.
Moreover, I simply love the hair mask and oil. The oil is not sticky to the touch too.
Thank you for such good products. Highly recommend!