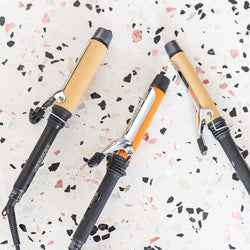 Fayre Beauty Korean Pro Iron Salon Grade Curler
Fayre Beauty Korean Pro Iron Salon Grade Curler
Ceramic-coated Proiron Curler for achieving your desired curls. Compared to a chrome coating, a ceramic-coated barrel has these advantages:
Radiates anions to maintain moisture and tame frizz. Hair appears shinier and moisturised.
Anti-static 
Scratch-resistant

Features of Fayre Beauty Korean Pro Iron Salon Grade Curler

Ceramic-coated Barrel: Style hair with more shine and less frizz. Adjustable heat setting of 110 - 200 deg.
Temperature Control: Turn the dial on handle to reach your desired temperature. Red light indicates that the curler is heating up to set temperature. Blue light indicates that the curler has reached set temperature.
360 Degree Rotating Cord: Allows ease of use and prevents wire damage.
Safety Stand: Curler can be propped up without the barrel being in contact with any surface.
Plug type F
Intentional gap between hotplates (0.1-0.3mm) for natural curls.
Available in sizes 28mm, 31mm, 35mm.
*3 MONTHS WARRANTY FROM DATE OF PURCHASE*
Other Tips
Apply a heat protection spray before curling to protect your hair and prevent drying.
Hair products may burn when using the curler. Do not apply excessively.
Curler is really easy to use!
My 31cm curler died on me after 7 months (a little shorter than I'd like), but after contemplating for a few days, I decided I can't do without it and bought both 31cm & 35cm now that my hair is close to mid back.
Fayre Beauty Korean Pro Iron Salon Grade Curler
I have been using the curler regularly and absolutely love how lightweight the curler is and the curls it makes. It has a longer holding handle compared to my old one so it makes curling easier for me as i have more space to hold on to the device.
Hair Curler 35mm
Bought 35mm for my curls and damn! Totally loving it!
As someone who has never use and own hair curler before, practice will be needed to achieve the curls I wanted.
Would definitely get 38mm if Melody ever brings in 38mm
Korean Pro Iron Salon Grade Curler 31mm
This curler really works wonders for my hair! My curls have never stayed throughout the day with all my previous curlers including dyson airwrap, but this curler managed to surprisingly! Getting my second curler in 35mm now! Ladies who have yet to try and are looking to try, please get it! Thank you Melody for bringing this in!
Bought 2 sizes less than 2 months apart
First thing you girls have to know is how hopeless I was with all curlers I've ever owned, including a high end one from GHD. And because I thought I can never handle any curlers, I tried to perm my hair 2 years ago but hated it. Fast forward to today, I have since owned this curler in both 31 & 35mm sizes. Curling my waist long hair took less than 10 mins every morning & these curlers gave me é curls I dreamt of having for years; my hairstyle held up for more than 24 hours! No regrets with both my purchases, thank you melody for bringing in this dark horse of a curling tong.
1st time & easy to use!
The curler is good! Very easy to use and curls can last the entire day! No regrets! Thank you Melody for bringing in good products for your customers!!
curls turn out rly well!!
the curler heats up almost instantly :)
Good buy!
Gives pretty curl without damaging the hair. Easy to use for beginners. Of course, the price is great for its quality.
Easy to use
Have been using this curler for few months. Curls turns out to be very pretty and it doesnt dry out the hair at all! Best purchase so far
HIGH QUALITY AND SMOOTH
definitely salon grade, able to achieve great curls.