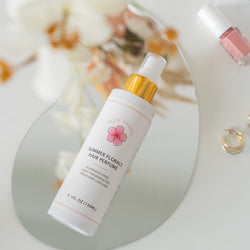 Fayre Summer Florals Hair Perfume
Fayre Hair Perfume is your answer to sweet-smelling hair, all day every day. Imagine a bed of florals from a summer garden, packed in a handy bottle for you to carry it around with you everywhere - a spritz is enough to rejuvenate your senses. Say goodbye to smelly, oily hair with Fayre Hair Perfume which is one of the best hair perfumes in Singapore that everyone should use.

Fayre Summer Florals Hair Perfume (150ml)

Light floral scent with notes of lilies, roses and cherry blossoms 

Can be used at any time of the day

Gives hair a subtle shine
Suitable for:
Both men and women
Pregnancy and breastfeeding safe

Recommended usage:
Use as and when needed

Spray directly onto hair
Best used with Fayre Wooden Paddle Brush to manage frizz
You should also try Fayre Parisan Rose Hair Perfume—our newest rose scent made with French Rose essential oils. Or get our Fayre Hair Perfume bundle to enjoy more savings.
Floral hair mist
Love the scent - refreshing, light and not overpowering. Excited to try this product out!
I'm in love!
This perfume smells really lovely. It gives an alluring smell throughout the day and yet not overpowering. Love it!
Floral hair perfume
It's my first purchase for this, and I'm instantly hooked on it. It smells great on the hair and even has a lingering alluring smell throughout the day
Fayre Summer Florals Hair Perfume
The scent is refreshing and smells really nice. The floral scent lingers on the hair all day long.
Parisian Rose 🌹
Totally in love with the rose perfume! It is a personally romantic gift that is a reminder to take care of and treat myself. It's a small indulgence and part of a wonderful routine I look forward to everyday before I go out.
Hair Perfume
The scent was so alluring!I used it on wet hair usually and the scent last for quite a long while!Will definitely re-purchase!
Have been buying Fayre shampoo and oil products since last yr and even introduced friends to the brand. Last order I tried the hair perfume and it smells so so so good! Definitely a good buy.
Had a teeny bit of issue with my delivery and Melody was swift and apologetic in her responses. Great service recovery! Thanks!
Nice floral scent
I have never use a hair perfume before and I took a leap of faith to try this product. Love it and can never go back now!
Nice scent hair perfume
Very nice and good hair perfume, make the hair smell so good and refreshing after applying it. Thank you for bringing in this product!
Light floral scent
The smell is not too overpowering. Very light and comfortable smell. My colleague even ask me what perfume I use when I start using this.