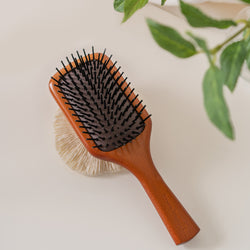 Fayre Wooden Paddle Brush
Fayre Wooden Paddle Brush
A professional brush made with high quality wood and features gentle and durable round-ended bristles

Strategically spaced out bristles designed to treat scalp and detangle hair

Reduces stress to hair and scalp during blow-drying & styling
Available in two sizes: standard size (20cm x 6cm) and large size (25cm x 8cm)
Benefits:
Promotes healthy hair and scalp

Stimulates blood flow and promotes healthy hair growth
Suitable for:
Note:
The paddle brush is designed with one bristle missing in the bottom to provide ventilation and to aid in drainage after the brush has been washed. It is not a manufacturing error and that it doesn't affect the quality nor function of the brush.
Please do not soak your brush in water. Keep your brush dry as much as possible and do not leave it in the shower as it will compromise and damage the wood material. As with all wooden products, the wood may peel if it's soaked.

To clean your brush, dip your brush bristles-side down in water, then use a toothbrush to scrub in between the bristles and the brush pad.
We recommend changing your hair brush once every 9-12 months, depending on how much product you use on a daily basis and the product build-up on your brush.
Comb
Collected The Big & Small Hair Comb
Quite good!
The only regret is i should get the large in size 😂
Best Brush
The brush is easy to use and doesn't hurt your scalp. It can also use to massage your scalp. Love it
Best Brush Ever!
The Fayre Wooden Paddle Brush is simply so useful for someone who doesn't brush her hair for the longest time. Now I brush it daily and use it to massage my scalp and spread the tonic evenly. Recommended to a few friends of mine!
Lovely hairbrush
I recently purchased Fayre hair brush. It's well-designed and the bristles are gentle on my hair. It's sturdy and feels like a quality product. I'm happy with my purchase and would recommend it to others looking for a good hairbrush. In case you are curious about the difference vs the other brand, I've also attached 2 photos.
Fayre Wooden Paddle Brush
It's good and nice! It gives scalp a good massage!
Love this brush!
Gives a good massage on the scalp and combs through my hair easily. Definitely my go-to brush!
Soft on the hair!
Would recommend for all hair types :)
Worth trying!
My go-to brand for combs has always been Acca Kappa but decided to try out Fayre's after reading positively good reviews here. Bought both sizes but turned out the big one is rather too big for my long bob hair. Standard one is definitely a more ideal size for ease of use! (Sharing a pic of both sizes for anyone else who intend to buy but couldn't quite decide which is a better size from reading the stock description alone).
Indeed a pretty well made comb that's decent for daily uses! And personally I still prefer reaching out to my wide tooth comb when hair is wet post washing before blow drying.