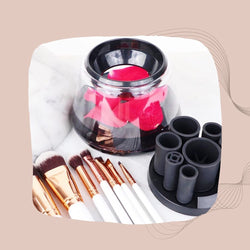 Parkrose Makeup Brush Cleaner
MAKEUP BRUSH CLEANER:

Our makeup brush cleaner is made of premium materials so you can perfectly clean and dry brushes in less than a minute. Cleans your brushes to 99% precision for better and more hygienic makeup application and accommodate all size brushes.

HOW TO USE:

1. Attach the brush to the spinner.
2. Pour water and soap into the bowl.
3. Dip & spin to clean, then leave to dry.
Convenient
Convenient product to clean your brushes