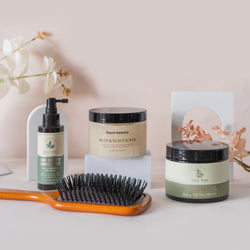 Fayre Self Love Bundle
Fayre Self Love Bundle
Pamper yourself with a relaxing session at home with our new Fayre Self Love Bundle.
If you are thinking of heading to the spa for a hair spa, why not enjoy a DIY hair spa at the comfort of your home instead? A hair spa is a rejuvenating hair treatment which can do wonders for your hair.

Fayre Scalp & Body Scrub is the ultimate pampering for your hair and body. Awaken your senses with this floral-scented scrub and indulge in an invigorating cleansing session with Fayre Scalp & Body Scrub. 
Treat your luscious tresses to a simple hair spa at home with Fayre Deep Conditioning Treatment Mask which hydrates, rejuvenates and revitalizes hair. It revives the natural strength of your hair to reveal lustrous, shiny hair.
Fayre Hair Growth Concentrate is an effective hair growth serum that nourishes your scalp to speed up and improve the hair growth process. You will only need to apply this spray to your scalp regularly for a fast, desirable result.
Fayre Wooden Paddle Brush is a professional brush made with high quality wood and features gentle and durable round-ended bristles
Fayre Self Love Bundle S$158 (U.P. S$180):

Best shampoo and conditioner
I love the scent of the shampoo and conditioner so much! Also, my scalp doesn't feel oily by the end of the day. No regrets switching to Fayre.
Self care is important!
Chanced upon this set when I wanted to buy the hair mask and body scrub! The hair mask is super good, a little bit of the mask alrdy work well for my hair! The hair tonic is working well too and can't wait to try the body scrub and comb (:
Love the hair oil most!
Smell is good and it is really not oily after use! The best hair oil that I'd come across.
scrub is good
I love how the scrub works so well as it claims just like other fayre products too
Buttery feel body scrub
The scrub really soft and wont make your skin painful when using, different from those you brought from Watson that gave you a very harsh scrub feeling.
Love the hair growth concentrate and comb
My baby hair is flying, means my hair is growing!!!! And the comb is so comfortable, even my son will ask me to comb his hair everytime he see me use the comb
One of the most value for money Haircare I have used!
I have sensitive scalp (itchy and prone to drandruff) and have tried many types of scalp care shampoo/conditioner but nothing works as well as Fayre scalp care shampoo and conditioner! I have been using for 3 weeks now and haven't had itchy scalp since then. Will definitely purchase again!
Hair mask and hair oil
these r really so good that i had to order again for my friend to as she has frizzy hair. Im sure Fayre pdts will improve her hair texture.
Self Love Bundle
This is the first time I saw a product that works for both scalp and body scrub. I bought it to try and definitely has no regret, it smells great and my scalp feels so clean after the scrub. Ended off with the shampoo, hair mask, hair growth concentrate and lastly the trusted hair oil. Will definitely recommend you to try this bundle! :)
Second Purchase
Second purchase as I loved the hair mask and want to try the body scrub after reading all the good review